Bag Lady: Carry On
Bag Lady: Carry On
*I wrote this last week, but for reasons that will be obvious at the end, I'm not posting this until today.
Mom's birthday tour of Ireland is just over a week away. I can count the number of days on my fingers (no toes required), and the pile (as my family affectionately calls the stuff you want to take on a trip) is growing. Over the last month and a half, I've been receiving updates from my mother about what she's purchased for the pile. A sampling:
Apr 26: [text message] I have bought 2 pair of walking shoes merrells and ryka
Apr 29: [text message] Inflatable neck pillow – check
May 17: [phone call] Purchased Fodor's Guide to Ireland. It arrived 3 days ago.
May 17: [text message] Movie on now called chasing leprechauns on pixl channel
Ok, so this isn't a purchase, but WHAT? Is this how she's preparing for the trip?
Here's a link to the preview in case you're curious.
May 27: [text message] Just ordered some euros
June 4: [email] I bought 2 pocket ponchos yesterday in case it rains and from the weather history looks like it might.
As for myself? I like to think I travel enough that I didn't need to make any additional purchases for this particular trip. Although, to be fair, I totally bought a pair of walking shoes after seeing my mom's shoe text. But that has more to do with my lack of footwear other than sandals. The whole Florida living doesn't bode well for closed-toe shoe ownership.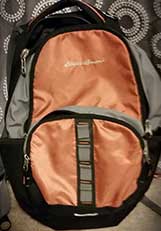 However, there is one thing I've been craving to update: my carry on.
Meet my trusty backpack. Backpack and I have been all over the world together since I first bought it in 2007. It was part of my first trip to Africa, went on my Mediterranean honeymoon, rode along on the Mille Miglia, and even took part in all the annual holiday trips to Kentucky. I once packed everything in it for a weekend trip to Tennessee (where one needs closed-toe shoes I might add) so I didn't have to check a bag at the airport. It has a pocket for my laptop, a place for my camera, a spot for my sunglasses so they won't get smashed, and a little spot where I stuff all my meds. In short, this bag is great.
Except that I feel like a complete dork when I'm carrying it, even if I'm one strapping it.
That and the backpack can get heavy, really heavy, and balancing it on my suitcase takes some serious skill.
Thus began my quest to find a less-dorky bag.
First, I should mention the four-year relationship I've had with my cross-body Radley London. I adore this thing, and when I envisioned my backpack replacement, I imagined a larger version of this exact bag. Cross-bodies are great for safety, no one's going to come rip it off your shoulder, and I thought if I could just find something similar, but larger, I'd be set.
Sounds easy enough. I found plenty that had the look, even a few at Radley London. But the deal breaker? My laptop wouldn't fit in any of them. So I expanded my search, which became even more frustrating. One minute I had defined terms, the next I was looking at every bag on the internet.
That's when I remembered an article I had stumbled across several months ago. It was horribly titled, something like, "Is This The Best Bag Ever?" And of course, my gut reaction was, "Bitch. Please."  But of course I had to look, had to read the article, so that I could smugly say, "Bitch. Please."
However, Lo and Sons had some pretty fantastic marketing videos featuring their O.G. and O.M.G. bags. I mean, if every purse or suitcase or carry on had a slick video like this, a video that illustrates what the bag is actually capable of, wouldn't that make you more likely to buy it?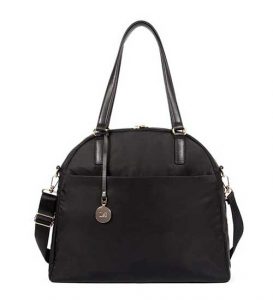 But, and a big ole Becky look at that but, there was a reason I didn't purchase the O.M.G. bag months ago. With a price tag at almost $300 I absolutely could not bring myself to pull out the credit card. Despite this, I went back to look at the O.M.G. last week, and lo and sons behold, there was a sale, and the sale brought the price down to almost $200. I, much like my mother, hemmed and hawed about it, until my husband looked over at me from the opposite side of the couch and said, "Buy the bag. My laptop bag was $180. Just buy it."
I do love that man.
So, I bought it! The bag just arrived today, and it's pretty darn snazzy. I'll save an official review for after the trip, but at this point, I'm pretty happy with my purchase.
And all this bag research resulted in yet another O.M.G. purchase.
Throughout the last month, I've been receiving emails from my father inquiring about ideas for what to get my mother for her birthday. A sampling:
May 14: [email] And I be thinking about getting her a Fodor's Ireland Travel Guide if you haven't got one already. Or is there something else I could get?
You read that right. He wrote, "I be thinking."
May 26: [email]  What about a road map?  Such as: Official Road Atlas Ireland (Irish Maps, Atlases and Guides)
May 26: [email] What about an Ireland update for Garmin?
May 26: [email] Thermos filled with Irish coffee?
After rejecting his suggestions (she has the Fodor's; we have maps; there's GPS on my phone; that's just whiskey), I sent him Lo and Sons' marketing video.
And now it appears my mom and I will be traveling through Ireland with identical bags.