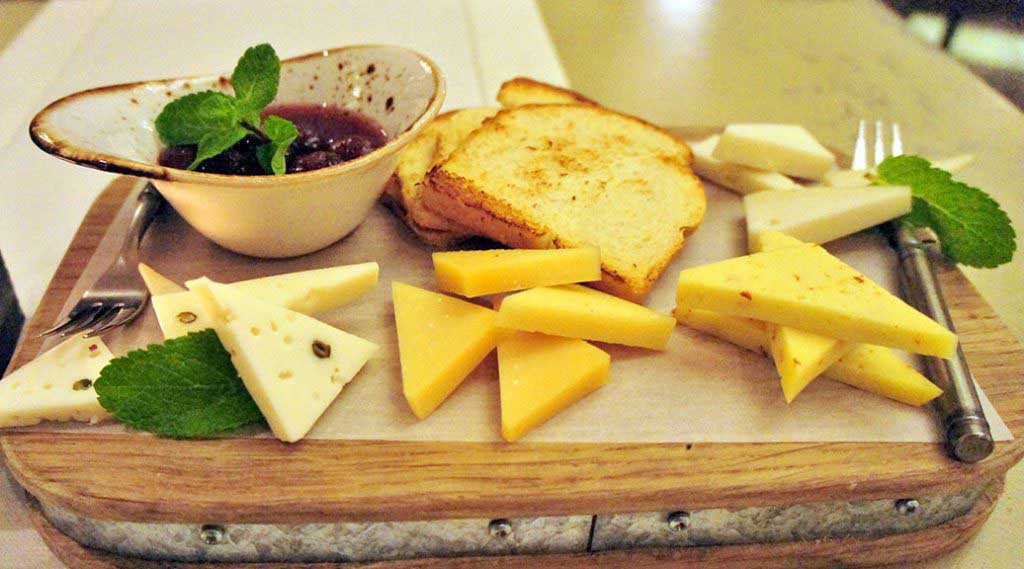 Eating Through Old Town: Tallinn, Estonia
Eating Through Old Town: Tallinn, Estonia
What is it about being in a foreign country that makes deciding where to eat so difficult? Not knowing the language, not knowing the customs, and not knowing the cuisine can be overwhelmingly intimidating. But finding an extraordinary restaurant can be the highlight of any trip.
One of the great advantages of staying in an AirBnB is that the host almost always recommends restaurants. Sometimes those recommendations are off the mark, like our host in Paris who apparently thought people only visited the City of Light to go clubbing, but others are spot on. In Avignon, our host, Jean-Claude, pulled out a map, circled multiple restaurants, looked at us and said, "Voila." Then, with a deep breath, he crossed through all the places he had marked. "Do not go there," he said. "All tourists. Here is where you must go." And go we did, several times in a row, to the restaurants he suggested.
When Double D and I chose Tallinn, Estonia, for our Christmas vacation, we were completely naive about the region's culture and cuisine. Luckily, our AirBnB host, Kristi, suggested a variety of restaurants, all within walking distance of our apartment. We were delighted to discover Estonia's rich culinary heritage, a distinct flavor infused with Scandinavian, Russian, German and French influences. A few of the restaurants our host recommended, as well as some we found on our own, are listed below.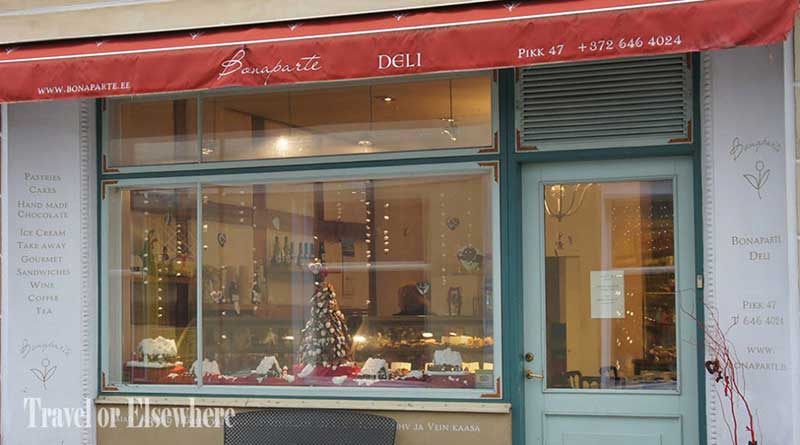 Bonaparte Deli: Just a few steps from our AirBnB on Pikk Street, this bakery/deli has a delicious array of pastries, cookies, sandwiches, and chocolates. Unfortunately, we're pretty sure the woman who ran the counter hated us. Whether it was her Estonian sensibility or our American ignorance (most likely the latter), we just never seemed to get in her good graces. But the chocolate-pistachio buns were so good! Not to mention the piparkook (Estonian gingerbread cookies), which became a Christmas-inspired addiction. So despite the crossed wires, we continued to stop by this deli every day and now refer to it affectionately as the "Angry Lady Bakery."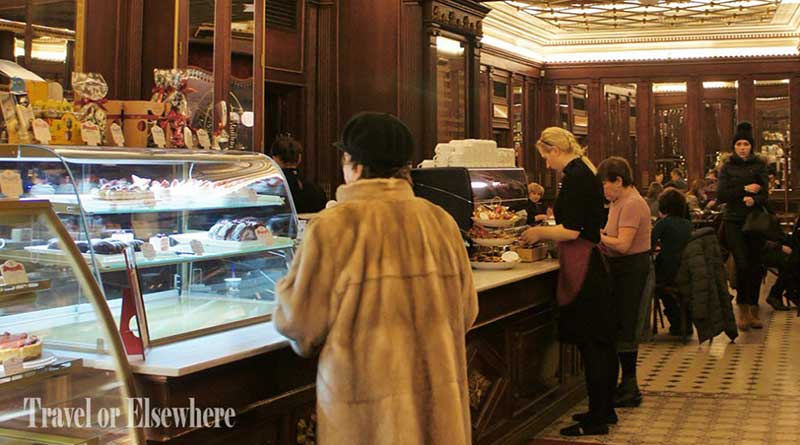 Maiasmokk Cafe: Established in 1864, Maiasmokk Cafe is the oldest operating cafe in Estonia. With the hundred-year old interior and whimsical train and Ferris wheel in the window, we couldn't help but be transported back in time while sitting at the counter, watching the holiday shoppers walk by in the mist. While Double D and I just stopped in for some coffee (and the free WiFi), the cafe is known for their marzipan, which you can learn more about in their marzipan room.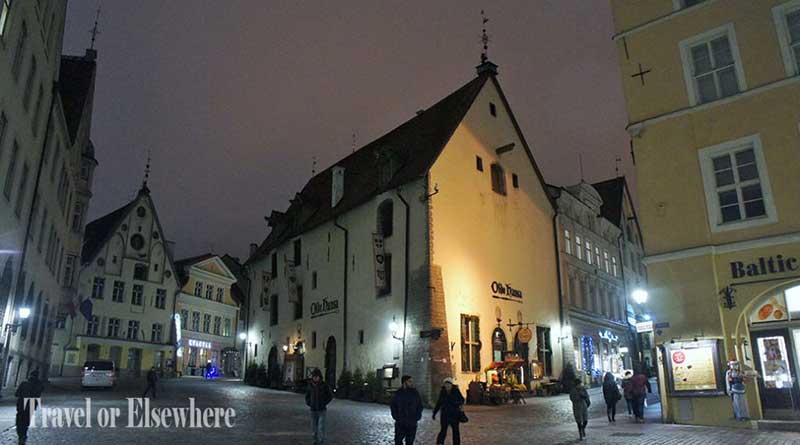 Old Hansa: This is one of those places we knew we should  have avoided. But it was Christmas, and we were game for a little camp. Outside, the hustlers were dressed in medieval garb, recounting the stories of old and assuring us that we would find the most authentic Estonian food inside. Really, it was the Medieval Times of Tallinn. (Our host DID NOT recommend this one.) The food was just kind of meh, and the prices were the most expensive we found in Old Town.
Street Vendors: Can you ever really go wrong with street food? During Tallinn's Christmas Market, the square is filled with vendors serving traditional Christmas foods of Estonia (think turkey and pumpkin pie at Thanksgiving). We had blood sausage, sauerkraut, and potatoes, but the real treat was a stop at the piparkook and glögg (mulled wine) stands for a little dessert and after-dinner drink.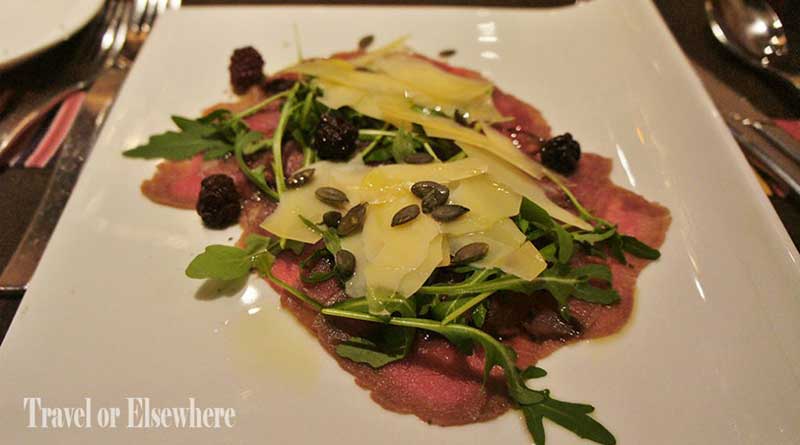 Kaerajaan: Yet another recommendation from our host, this restaurant gets its name from an Estonian folk dance, the Kaerajaan. (Here's a video of the dance. Try not to clap along.) Featuring the perfect view of Town Hall Square, Kaerajaan is an exquisite blend of old and new, with classic Estonian elements, like the pattern on the napkins, mixed with an eclectic decor. The food is prepared much the same way: contemporary takes on authentic Estonian dishes. Don't miss the upstairs bathroom, which was built right inside the building's chimney. Reservations recommended.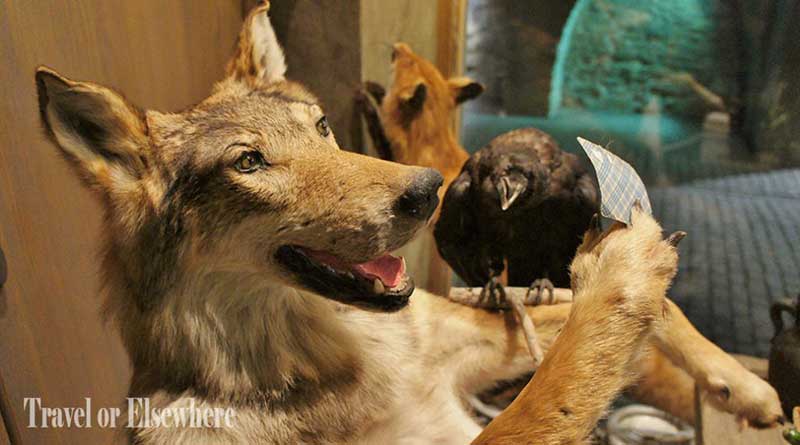 Farm: Once we got past the taxidermy display in the front window, we discovered a restaurant that executes the farm-to-table method in ways many American restaurants can only dream of. Attached to the Vana Wiru Hotel, the inside of this restaurant is impeccably decorated as a homage to a wealthy Estonian farm, with the main focal point being the panoramic open kitchen. The restaurant bills itself as 'modern Estonian cuisine,' and the dishes are created from local ingredients, including fresh game and house-made products. Reservations recommended.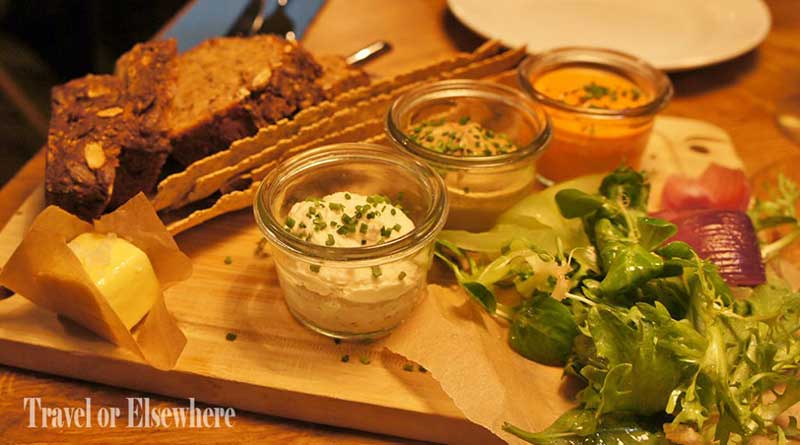 Pegasus: Hands down, this was our favorite restaurant in Tallinn, and yes, we can thank Kristi for that. Located in a Soviet-era building, Pegasus prepares classic Estonian cuisine with a modern twist. From the groats served with marinated apple and beetroot to the wild game entrée to the blackcurrant semolina, I could have planted myself at this restaurant for a week and eaten my way through their menu. Their take on traditional Estonian black bread was absolutely scrumptious. A real plus? They're known for slipping charming notes to their patrons, either tucked inside a book with the bill or under an after-dinner coffee. This place is a must. Reservations recommended.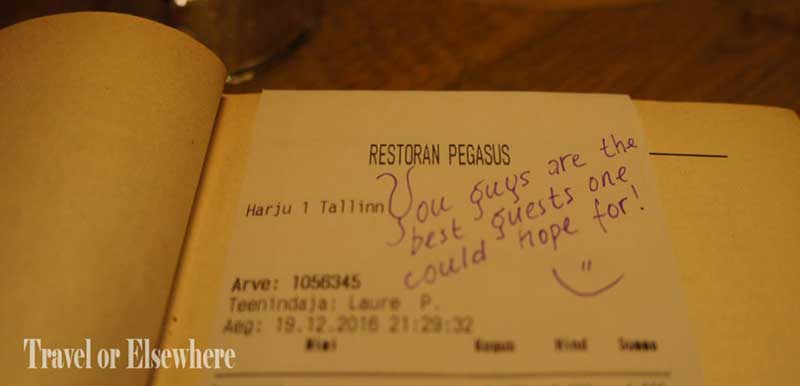 Have you been to Tallinn? Any restaurants we should put on our list for the next visit?
For more information about visiting Tallinn, visit these super helpful websites: Visit Tallinn and Visit Estonia.