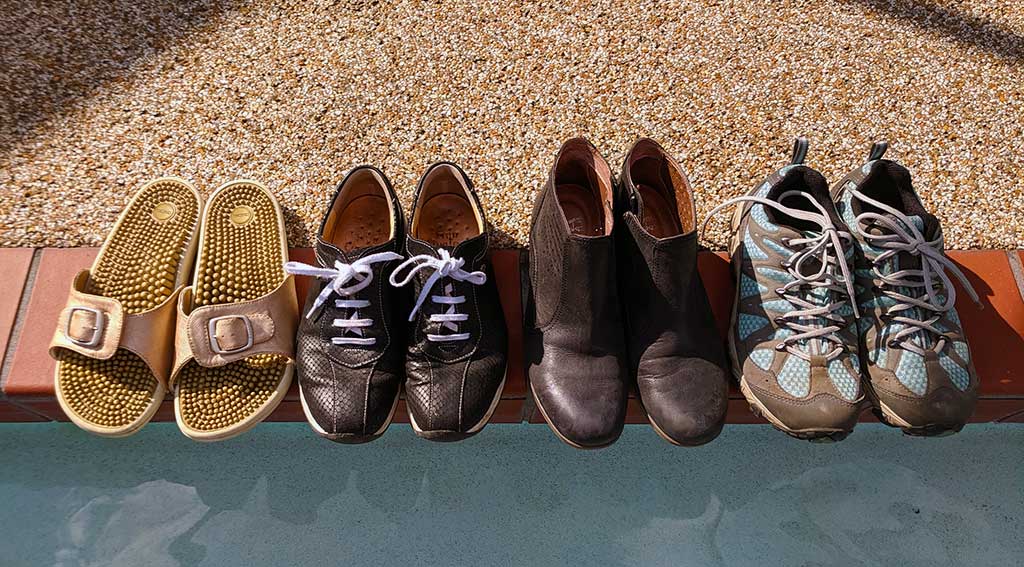 Happy Feet Honest Reviews
Happy Feet Honest Reviews
Now you know how I became a shoe model. (If not, you can read the story here.) But how did I actually feel about the shoes I received?
A little background: Happy Feet Plus is a Florida chain that sells "footwear for a healthier you." They are well known for selling Birkenstocks, and since I had never owned a pair, I had never thought to go into a Happy Feet. My first experience with the store was the night I went with Cass, Tall Guy and Double D to get the shoes for our trip, and I was pleasantly surprised by the variety of shoes in the shop.
So about the shoes: Here are my honest reviews of the four pairs* of shoes I modeled on the trip. And yes, I did get to keep them, but only because I liked them.
KENKOH CHAI CHAMPAGNE MASSAGE SANDAL
retail: $99.99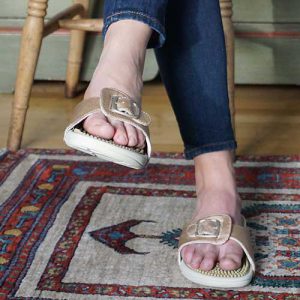 Kenkoh, or as we call them, Kinkies, are "massage shoes" that claim to relieve foot, knee, leg and back pain. I, sadly, suffer from a Morton's neuroma on my left foot (too many high heels in my twenties), so I was interested in seeing how these shoes helped. When I first saw the shoes, one word popped into my head: FUGLY. On the surface, the shiny gold band and buckle didn't seem so bad, and I can see how someone like my mother-in-law would appreciate the bling. But the gold was coupled with the vomitous yellow of the massage insole. The sales associate (who was lovely BTW) must have noticed my face when she pulled them out (the face that said, "OMG those are FUGLY.") because she smiled up at me and said, "These look so much better than the old ones." FYI: I don't want to see the old ones.
Upon actually wearing them, my first reaction was, "Ouch, these things hurt." I would wear them around for a few minutes and then step on the carpet in our house (which is, legit, at least 25 years old), and I would think the carpet felt like clouds of cotton candy on my feet. That's how much pressure the Kinkies were putting on my tootsies.
But on the trip, I wore them all around our AirBnB, because no one wants to touch the floor of a strange apartment with their bare feet. And I began to become enamored with my Kinkies. By the end of the trip, I wouldn't walk around the house without them. What started out as my least favorite pair of shoes soon became my favorite. Even after the trip, I continue to wear my Kinkies regularly. They're still not my favorite color combination (you can't change gold and vomit), but I do love them. In fact, everyone started falling in love with their Kinkies, no matter the look (we all had different pairs).
So did they totally alleviate the Morton's neuroma? No. But they do offer some nice massage to my feetsies. And while pricey, I totally recommend them.
FINN COMFORT SARNIA LEATHER
retail: $375
First things first: These shoes are bad ass. I love the snake skin look of the leather, and the sole is super groovy too. My coworker told me they looked like high-end bowling shoes; I took it as a compliment. These were my go-to shoes when we were walking around the streets of Alsace. They're comfortable enough to be regular walking shoes, but the sporty looks give them a little bit more class. Listen, the last thing you want to look like in Europe is the dopey American tourist in super comfy sneakers. (Tip: no one but Americans wears sneakers in Europe when not working out. Ask Cass. She'll tell you.) Handmade in Germany, the one downside to the shoes is the price. But hey, totally worth it if you want the looks and the comfort.
DANSKO LIBERTY BLACK LEATHER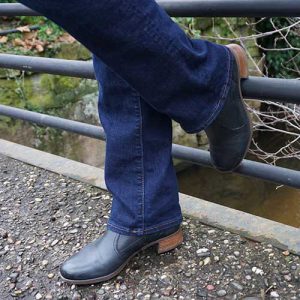 Happy Feet currently has a similar model, Dansko Fifi Black Leather
retail: $164.99
This pair of shoes was the biggest disappointment. Why? I love the way they look. I love how comfortable they are. I just like the other ones more! No really. I'm not even joking. These are a great pair of shoes to have in the suitcase if you want to be a wee bit more fashionable without sacrificing the comfort.
OBOZ
msrp: $125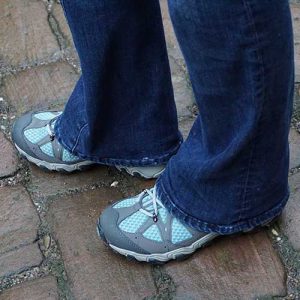 These shoes are no longer on the Happy Feet Plus website, but Happy Feet recommended them to me, and I'm recommending them to you. (Hey, if they don't have them, they're bound to have something even better!) These shoes look a little tougher than regular walking shoes, but they're incredibly light. (Anyone remember how heavy those Timberland boots were in the nineties? Or am I just dating myself again? Don't answer that.) When we were being fitted for the shoes, the Happy Feet employees asked that we take pictures of these shoes somewhere other than a hiking trail. Why? Because these shoes provide great support while walking on surfaces such as cobblestone streets or uneven sidewalks. You know, all those surfaces you tend to find in Europe. I wish I had had these shoes in Ireland.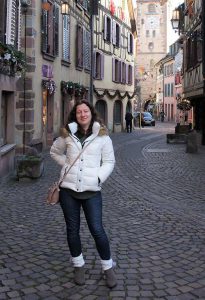 *So you might have noticed that I said I received five pairs of shoes in my other post. The fifth pair of shoes Cass also received, and it seemed a little self indulgent for both of us to take the same pair. While I did wear that pair around the house, ultimately I returned them, but only because I didn't want to be greedy. Did Cass like them? I think so. If anything, she rocked the boot socks.
So would I recommend Happy Feet Plus? Absolutely! Their staff was a delight to work with, and the comfort of all the shoes was pretty extraordinary. Now if you're looking at the price and thinking, no f-ing way, listen: I totally get it. But remember, this is something you'll wear everyday, and no one wants a Morton's neuroma.